How-To: UK Ringtone - Answer calls anywhere in the world but still be 'around the corner'
Summer is fast approaching and we know there's a lot of you who want to get away to sunnier climes, but also be ready for that next client call. This isn't a problem except for the fact that if you're not in the UK the usual ringing tone is replaced with the local equivalent.
It can be perplexing for your callers when they hear a foreign ringing tone if they've dialled a UK Local Number. The European ringing tone especially can easily be confused with the UK engaged tone.
The easiest way to not bewilder your clients is to stay in the office at all times, however you won't get a decent tan hovering over the office phone!
The next best thing is our UK Ringtone Bolt-On. The feature, costing £5pm will replace the local ringing tone with the familar tones we expect to hear as we wait for our call to be answered.
How does it work?
Playing the UK Ringtone when a caller dials your TTNC Number
If you currently have a TTNC number forwarding to your mobile, all you need to do is purchase and enable the UK ringtone Bolt-On. All calls will then play the UK Ringtone, whether you're in California, Crete or Croydon!
Playing the UK Ringtone when a caller dials your Non-TTNC Mobile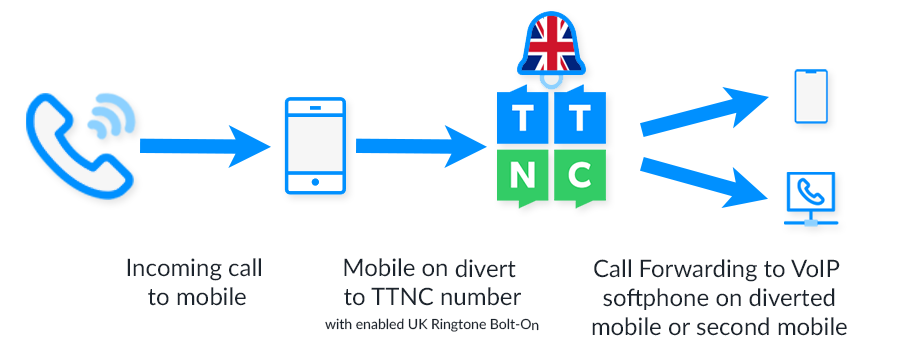 If you're looking to play the UK ringtone when someone calls your non-TTNC mobile number, then it's a little more complex. - Please note that Virgin Mobile do not currently support call divert.
The first thing you need is a TTNC number with the UK Ringtone enabled.

The next thing is to divert your mobile number to your TTNC number. This can be done in the handset's settings (iPhone or Android) or can be done via your mobile network provider (usually consists of 'making a call' by dialling a series of characters which sets up the divert), contact your provider for details.

Finally, your TTNC number should have the forwarding destination of either a second mobile or a VoIP User registered on a softphone on the diverted mobile.
All calls to your mobile will then play the UK Ringtone, whether you're in Durban, Dubrovnik or Derby!
More information and a comprehensive help guide can be found here.