Tags now included in CDR downloads
Although we introduced the concept of using Tags years ago, it seems we overlooked the obvious and didn't include them in any CSV downloads within myTTNC – oops!
We've finally rectified this oversight so now when you download your call data records (CDR's), you will see the tags associated with a number against each call record.

Call Data Records CSV file
What are Tags?
Tags are magic! Tags are used to identify an item and allow it to be found again by browsing or searching.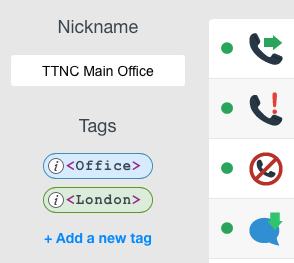 How do you use Tags?
If you're using your numbers for different marketing campaigns, then number tags are a great way to filter them. You could have a tag for print adverts, web sites or even for different departments in your company and apply that tag across all relevant numbers.
Your Call Logs and Phone Number overview pages also use tags. Just type one or more tags into the search, and we will show you the numbers that have one of the tags or all of them, so you can quickly see which of those numbers are performing well if you are doing any form of call tracking.
More Information
If you would like to learn more about Tags, please visit our help centre or call tracking page.